Dior launched several shades of Diorshow Fusion Mono eyeshadow. Cosmetic has subtle glow, thanks to which eye make-up is elegant and perfect for any occasion. Among various shades we will find pink, beige, grey and blue. Very popular colours from Dior collection are: Lune, Etoile, Aventure, Cosmos, Millenium, Zenith, Mirror, Meteore, Fahrenheit, Chimere, Hypnotique. Those shades will be joined by two out of the limit edition, Diorshow Fusion Mono: Equinoxe (ashy) and Rosee (pink). If that isn't enough for you then Dior has few matte eye shadows (pink, beige, grey and black), Diorshow Fusion Mono Matte: Nocturne, Fantaisie, Songe and Mirage.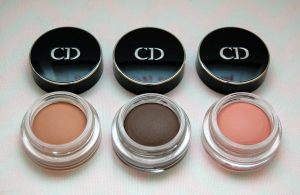 Diorshow Fusion Mono eyeshadow has a gel – mousse texture. All cosmetics have rich colours, give matte finish and the net result of eye make-up is quite good. There isn't any fallout of the excess eyeshadow and they don't fade, but they can gather in the crease and corners of the eye. It is best to apply the eyeshadow with applicator or fingertip. Using the applicator, the finish is intensified to reveal pure matte colour and using fingertip will create a light veil of colour. Dior cosmetics are locked in small round jars with about 6,5 grammes of product.
We can match Diorshow Fusion eye shadows whatever way we want to. On the Dior's site we will find application, thanks to which we can match two eye shadows. Dior advises to apply Backstage Eye Prime Long – Wear and Smoothing Eye Primer before eye make-up. Its task is to smoother skin and camouflage imperfections around eyes area.