In great strides comes the spring-summer 2016 season, so it's about time to present newest trends in manicure, that will be hosted in all beauty parlours this year. What kind of manicure will be on top in 2016? How to paint nails in upcoming summer? All the answers can be found below.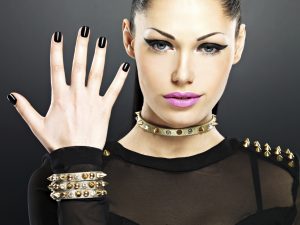 The 2016 spring-summer trends in manicure will bring a bit of freshness, but you can still find many connections to the last season's trends. Stylist remain faithful to natural fingernails with fresh and groomed nail plate enhanced with just conditioner. Natural manicure is one of the strongest and long-lasting trends. That is why we can expect it to rule on any designer's catwalk this year, at least those who does not want too much distraction from their designs with flashy manicure. Being natural always pays out. In 2016 we can expect some big returns from dark and metallic colours, in particular shades of blue and green. The queen of manicure isn't going anywhere either, red colour will come in all its shades – from restrained to really juicy – in 2016.
This year's spring and summer will be all about pastels as well, so you don't have to get rid of your yellow and pink nail polish collection just yet. Still popular will be milk-white shade, French manicure or subtle ombre. What's interesting, 2016 will be a season of brocades as well, even during summer. All the metallic, sparkling and glittering colours are among upcoming trends. Manicure in 2016 is also about multi colouring – as it was presented on Vivienne Westwood's catwalk. Another expected trend is combination of multiple colours on nails. Stylists announce that multicolour manicure, and in particular combination of white and patterns in all kinds of colours. Upcoming spring-summer season combines those traditional and new solutions on your fingernail plate. On this account, we can expect that the catwalks this year will be filled with natural manicure, classical French or red, but also brocade and unusual connections.