Is your hair coarse and has lost its shine? Has your skin lost its firmness, it's saggy and covered with cellulite and stretch marks? Have you noticed many imperfections on your face that no cosmetic can deal with? Then it's time to try out the Nanoil Castor Oil – a remedy for all skin problems. Extracted from castor seeds, Ricinus Communis Seed Oil is an innovation on the cosmetic market. It's much lighter than the traditional castor oil, it absorbs quickly and doesn't leave a greasy film on the skin.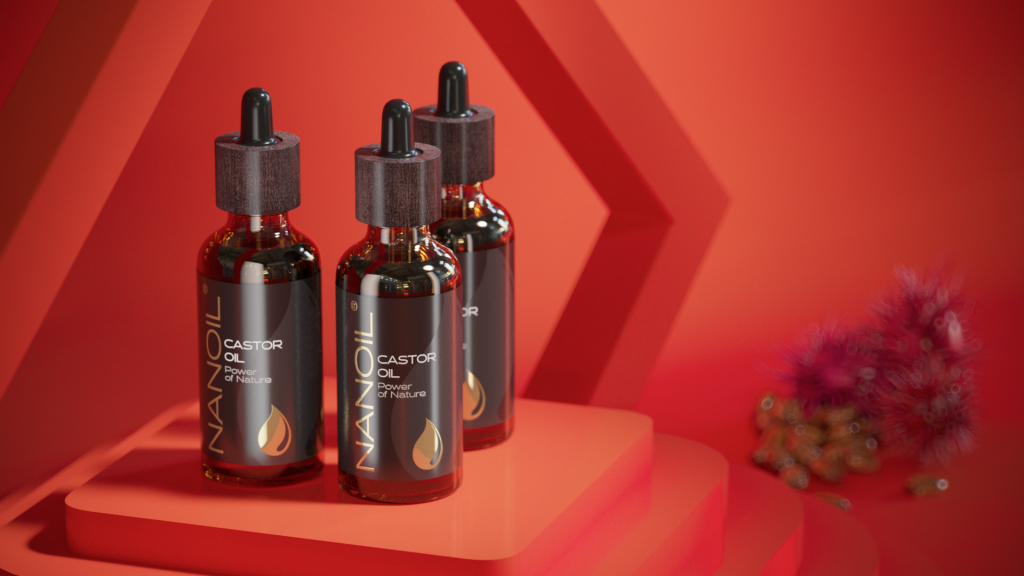 Number 1 natural oil
Castor oil is well known and loved by millions of consumers since it has so many various uses. It's not the same heavy, greasy oil we know from the pharmacy. This castor oil is cold-pressed, unrefined, 100% organic, and its light formula can penetrate deep into the skin to support its regeneration.
The Nanoil brand offers an organic cosmetic without any unnecessary preservatives, alcohol, and synthetic dyes. It contains up to 90% of ricinoleic acid, valuable omega and linoleic acids, as well as a high content of vitamins E and A, which provide antioxidant and anti-ageing properties, boosting collagen and elastin production. It is a strong ally in the fight against cellulite and stretch marks, and a guarantee of beautiful, strong hair, lashes, brows, and nails.
It's the best natural oil even for the most demanding skin. It's currently the most popular oil that has received loads of positive reviews on the net. Each drop of this precious oil contains the essence of what is best in castor seeds. This natural cosmetic was created to care for all parts of the body.
You should try Nanoil Castor Oil because:
it has a light formula and absorbs quickly,
it comes with a handy dropper to ease accurate dispensing,
it's organic, 100% natural, and certified by Ecocert,
it's not tested on animals, perfect for eco-friendly skin care fans,
it doesn't contain any unnecessary preservatives, parabens, and alcohol,
it combines a large capacity (50 ml) with an affordable price, so it will stay with you for a long time.
How to use castor oil?
A rich source of valuable fatty acids makes the oil irreplaceable in skin, hair, and nail care. It controls the overactive sebaceous glands, effectively combats greasy hair, supports the treatment of skin diseases, protects the hydrolipid skin barrier, gently lubricates and moisturizes the skin, preventing water loss.
It has strong anti-ageing properties to provide you with beautiful, radiant, young skin for longer. Use it as a face cleanser to get rid of blemishes, acne, and other skin imperfections. Regular body massage using castor oil can prevent stretch marks and orange peel skin, making your body firmer and more toned. Your skin will immediately become soft and pleasant.
The oil works as a natural conditioner for brows and lashes, it encourages their growth, thickens, and nourishes them. No need to buy expensive serums – try out this multi-purpose formula that can replace several other products. Apply it to your hands and nails to restore their natural shine and let your nails become strong and resistant to damage.
Start the highest level of care with Nanoil Castor Oil and discover the power of nature. Go to the nanoil.us to discover natural, organic, certified oils that enjoy undying popularity around the world. Join the group of satisfied consumers!