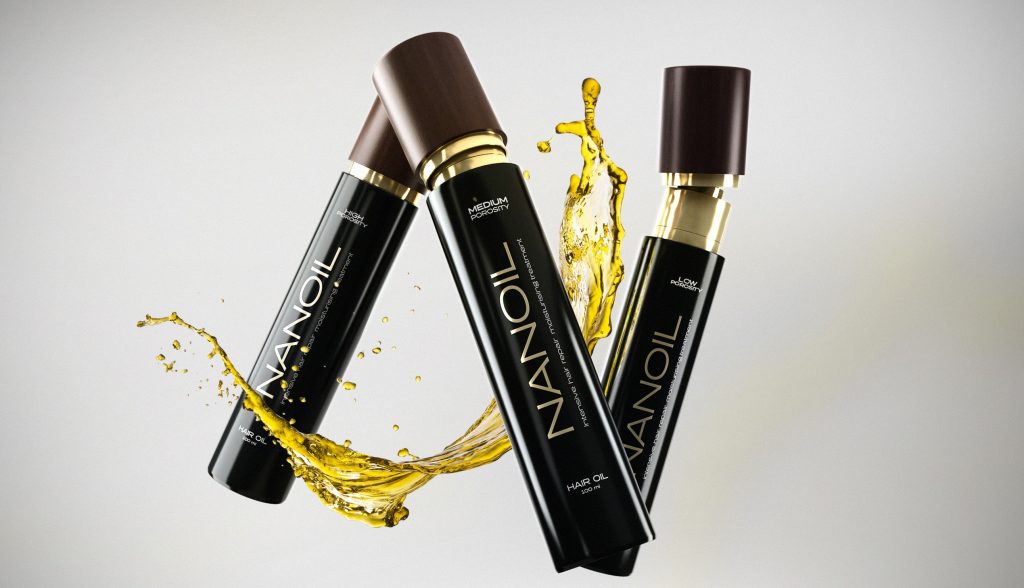 You were tricked into believing that there are cosmetics for "all hair types".
You heard you must buy a different product for every hair problem.
You believed it, struggling with hair care, styling and plain hairdo.
Until Nanoil hair oil appeared and offered much more than any other product.
It presented you withcreativity.
It gave you new possibilities.
It armed you with ingredients that perfectly match your hair.
It threw new light on hair care…
… and changed it forever.
The creators of Nanoil hair oil took a professional approach to hair care and repair. They chose quality and precision while creating the hair oil that ideally matches hair porosity (hair condition). It is a versatile and multifunctional product. The application of Nanoil hair oil is a pure pleasure because there are endless ways of using it. You decide how, why and when to apply it.
Nanoil hair oil is free from toxins, comedogenic silicones, parabens and dehydrating alcohols. That is why it can be applied to the scalp, not only to the hair. Therefore, it guarantees full and professional hair care that reaches the most crucial point – hair bulbs. Hair repair and reinforcement should begin in the bulbs. Thanks to them, our hair grows healthy, strong and thick. Nanoil hair oil strengthens hair from the roots to the tips.
Nanoil's manufacturers discovered that hair products should match human hair structure and one of the three types of hair porosity. The discovery allowed them to create 3 types of Nanoil hair oil. Each version is composed of ingredients that are suitable for medium, high or low porosity. The three hair oils have slightly different components.
Nanoil for low porosity hair – thick and strong, often greasy, lacking volume.
Nanoil for medium porosity hair – quite healthy and thick, a bit weak, dull and frizzy.
Nanoil for high porosity hair – dry, brittle, dull and distressed.
Each of the three Nanoil versions focuses on the needs of our hair, delivering substances that match a given type of porosity.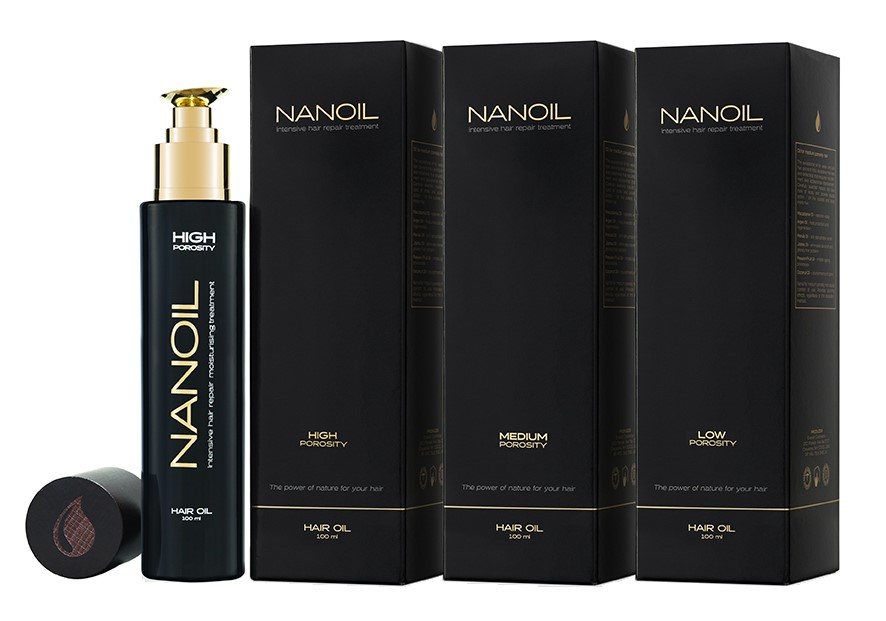 It contains lots of natural oils selected especially for this hair type:
cedar oil
coconut oil
castor oil
argan oil
shea butter
maracuja oil
babassu oil
monoi oil
cupuacu butter
The action of natural oils is intensified by most hair-friendly vitamins (A and E), pro-vitamin B5, UV filter, and innovative ingredients that stimulate hair growth and stop hair loss (baicapil and kerastim).
Nanoil for medium porosity hair
The selection of natural oils that work in medium porosity hair care:
macadamia oil
argan oil
marula oil
jojoba oil
maracuja oil
coconut oil
The action of oils in this Nanoil version is enhanced by vitamins (A and E), sun protection filter, silk, and kerastim and baicapil – two substances, mentioned above, responsible for quicker hair growth and thicker hairdo.
Nanoil for high porosity hair
This version is abounding in oils made of large particles that are ideal for high porosity hair.
almond oil
argan oil
evening primrose oil
avocado oil
maracuja oil
cottonseed oil
The action of finest quality oils is intensified by an array of ingredients that enhance and speed up hair repair: keratin, panthenol, UV filter, silk, lanoline. Kerastim and baicapil in this Nanoil version play the key role – not only regenerate hair bulbs but also repair hair, preventing hair loss and intensifying volume.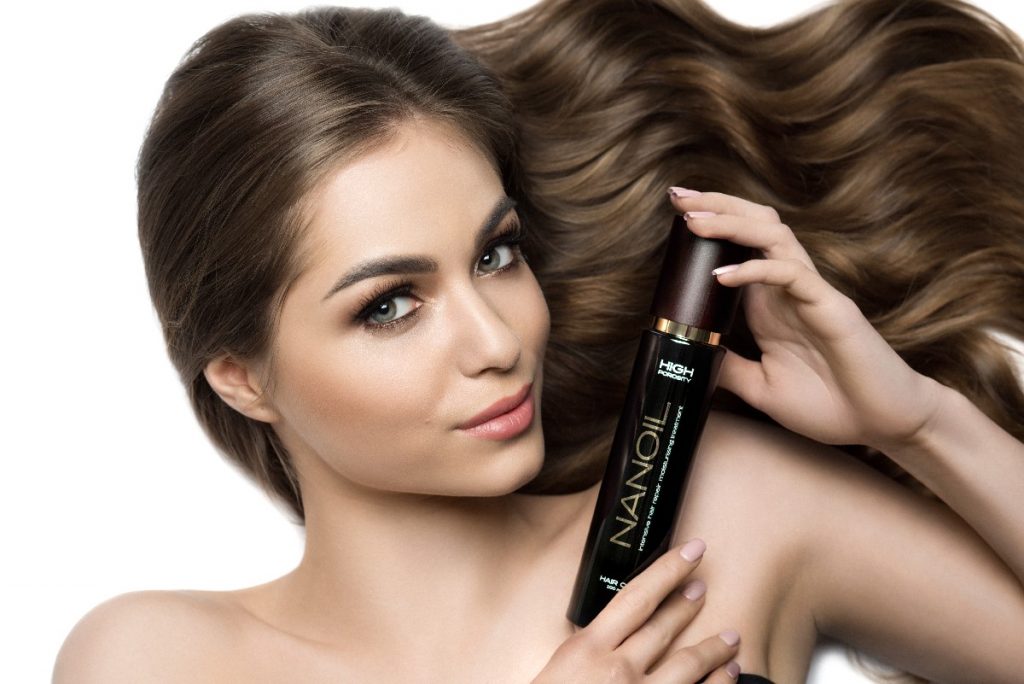 Why Nanoil?
When you choose a hair care product, you must be aware that there are no ingredients better than natural oils. There is no artificial ingredient (devised in laboratories) that could compete with the force derived from nature. Properly selected natural oils win every battle for beautiful hair.
The oils included in Nanoil are enhanced by numerous additional substances that beautify, repair and deliver extra care.
Each version of Nanoil hair oil is precisely composed of substances that your hair needs for beautiful and healthy growth. So:
NANOIL + YOUR HAIR = PERFECT DUET
How can you use Nanoil hair oil?
The application of Nanoil hair oil is a pure pleasure. It is trouble-free. You don't need to follow any strict rules and directions for use. Surprising yet logical: there are no directives. No matter if you apply it to damp hair or scalp, to dry strands or hair ends, wash it off with a shampoo or not – the effects will be always visible. Your hair decides on the method and amount of the oil, depending on its needs. You will notice the best application method yourself: you will see it with the naked eye and feel while running your fingers through the hair.
Stunner!