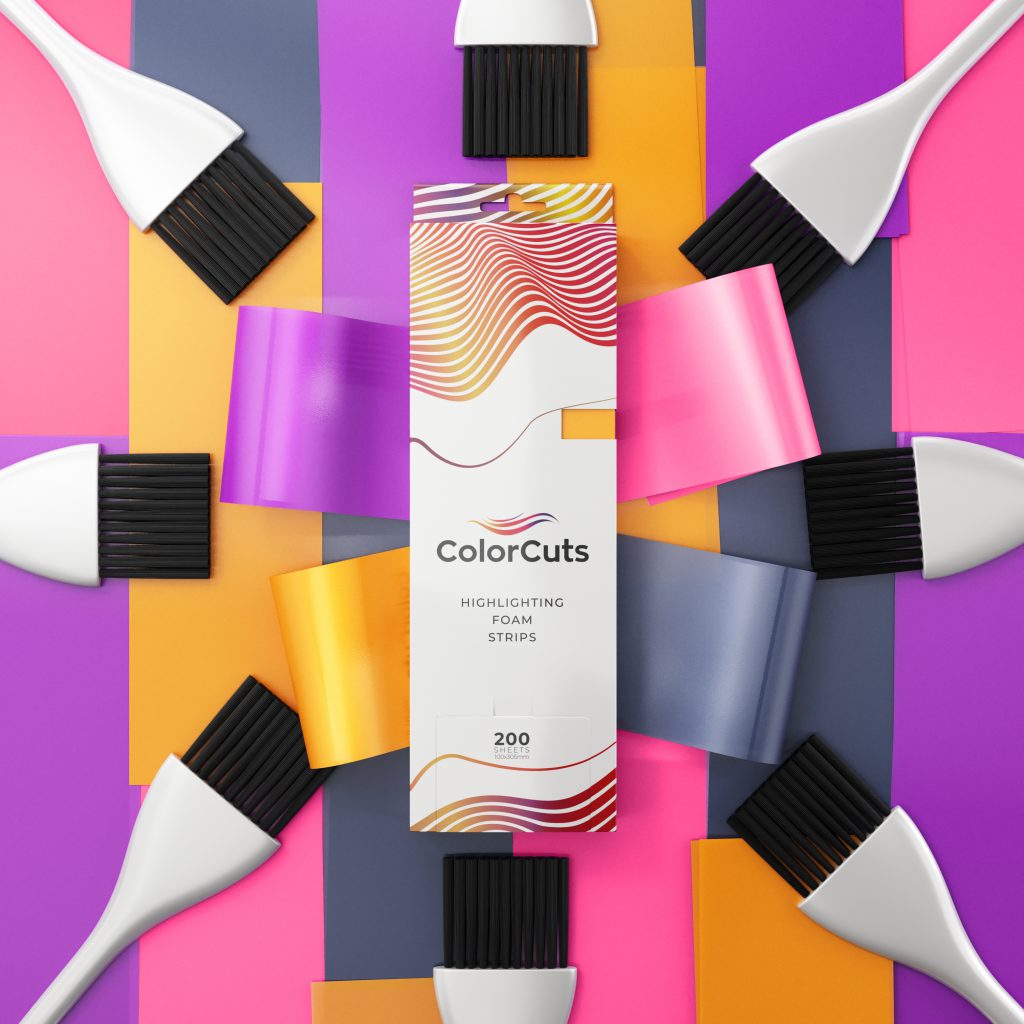 ColorCuts Thermal Foam Strips – A Game-Changer For Your Hair Salon
You want to create precise, multi-layered colouring, but you are tired of the lengthy cutting and preparing aluminium foil? The ColorCuts brand has something special for you! The innovative, thermal hair colouring strips – Highlighting Foam Strips – are a professional hairdressing gadget that can upgrade the prestige of your salon.
ColorCuts – the leader in popularity rankings
Professionals must keep up with the latest trends if they want to gain an ever-growing circle of satisfied customers. ColorCuts strips provide the ultimate quality, perfect results and 100% control over the colouring process.
They make colouring fast, comfortable and professional and provide maximum comfort to your customers. What more could you ask for? These pleasing to the eye polystyrene thermal foam strips deliver everything you need for professional hair colouring and are suitable for any technique. The lightweight material ensures exceptional results and extreme precision.
The unique material maintains the optimum hair temperature, minimising damage. Highlighting Foam Strips allow you to achieve the best results with no skin irritation. They can streamline the workflow of the whole staff, are comfortable to use and above all – they are reusable, so they can save you money.
They are made from 80% recycled materials. They box contains 200 strips measuring 100×305 mm, which make them suitable even for very long hair. After use, you can wash them in the washing machine up to 3 times, making them last for around 800 uses! This is a remarkable saving with care for mother nature.
ColorCuts colouring foam strips:
can streamline the workflow of your staff,
are light, thermal and flexible,
are pre-cut and ready to use,
biodegradable, created in harmony with mother nature,
become adhesive in contact with colouring products,
allow you to create unique hairstyles,
are made of polysterine foam,
ensure full control of the colouring procedure,
200 pieces per pack,
100×305 mm, suitable even for very long hair.

Colourful thermal Highlighting Foam Strips
This hairdressing gadget can upgrade your services and make your hair salon more luxurious. The Maltese ColorCuts brand has launched biodegradable and extremely easy to use foam strips. They come in a handy box, so you can easily take out each strip.
The strips are ready to use and pre-cut and get a grip in contact with moisture. No need to fold the edges – just fold the strip in half. They provide the ultimate control of every stage of colouring, resulting in spectacular, precise and natural effects.
These strips combine technology with environmental care to transform your hair salon. Support your staff and save time on the lengthy preparation of aluminium foil. Keep up with new trends from the hairdressing world and gain more satisfied customers.
ColorCuts strips ensure hygiene and ease of use. Create unique balayage, highlights, reflections or multi-level colouring in less time and make your salon luxurious. Ensure the highest aesthetics and exceptional comfort of the colouring procedure. Stand out from the competition and choose biodegradable accessories to care for the environment. Learn more about the product: www.colorcuts.mt.
---