A story about an unusual moringa oil should begin with the words… once upon a time, at the foot of the highest mountain, there is a miraculous tree growing. Each and every part of the tree is useful whereas the stems grow back after cutting. Moringa leaves disinfect water. The fruit and roots are edible whereas moringa powder could tackle the problem of hunger in the world.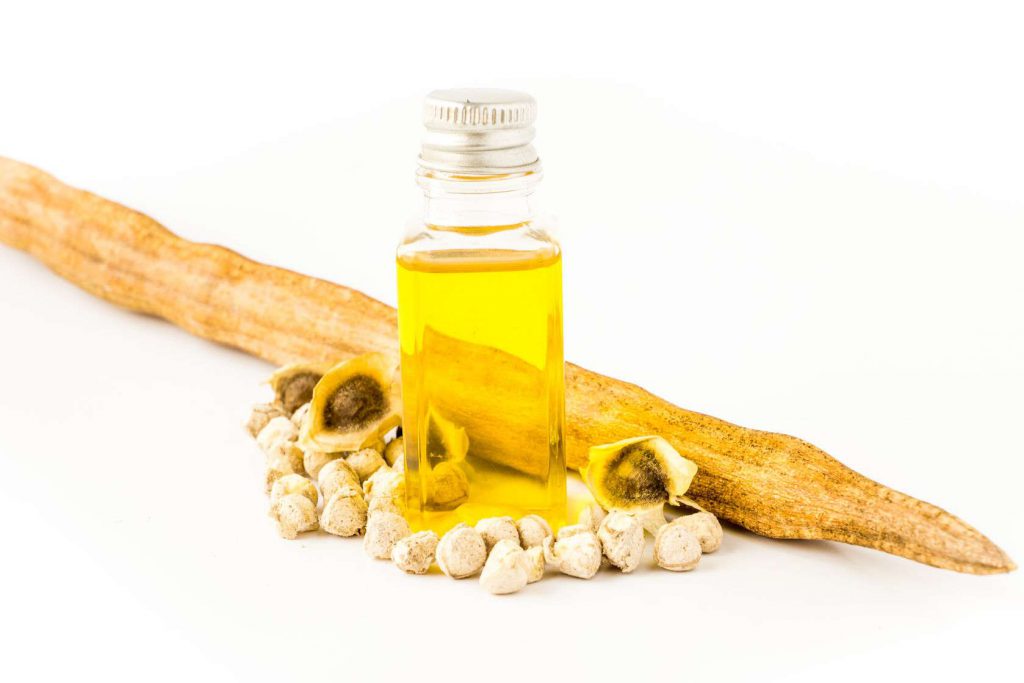 Extracted from the wonderful tree, moringa oil is the strongest elixir of youthfulness – the secret of Indian women and their beautiful hair and flawless skin. No wonder moringa tree is cherished and respected in India.
Is this true that moringa oil is a brilliant hair-repairing and nourishing substance? Will applying it regularly make wrinkles less visible? What ingredients make it so extraordinary?
Moringa Oil INCI: Moringa Oleifera
Moringa Oil – Ingredients
Moringa amazes with the number and concentration of nutrients. It has 1.5 times more amino acids than eggs, twice as much fiber as wheat, 5 times more vitamin E than cereals, 7 times more group B vitamins than yeast, 25 times more iron than spinach, 15 times more potassium than bananas, 17 times more calcium than milk and 10 times more vitamin A than carrots. These numbers mean one thing – moringa oil is a strongly-concentrated elixir of beauty, delivering huge amounts of vitamins to both hair and skin. Just imagine the best hair or facial mask made up of natural substances… and then multiply its power by several times. That's the way moringa oil works. Apart from valuable vitamins, minerals and amino acids, it contains precious fatty acids, phytosterols and flavonoids – everything that our skin and hair need to keep young and healthy.
Moringa Oil – Cosmetic uses
Moringa oil benefits our hair and skin like a nutrient-rich, highly-concentrated repairing serum which tightens the skin and delays aging. It rejuvenates, maintains moisture and works as an antioxidant. The oil nourishes and alleviates very dry skin, soothes post-acne spots, treats pimples and inflammation, improves the condition of the vascular skin, reinforces blood vessels, smoothes and reduces pigmentation spots and is quickly absorbed. You can use moringa oil for body skin care or removing your makeup, add it to creams, facial and hair masks, rub it into hands and feet, use as a serum (over a cream).
Moringa Oil – benefits for hair
moisturises and locks water in
activates repair processes in the inner hair structures
moringa oil soothes skin inflammation
prevents hair loss and promotes hair growth
delivers a full set of vitamins and amino acids, upgrades the hair appearance
moringa increases hair shine and elasticity
delays hair aging
rebuilds bonds inside hair
moringa oil keeps hair ends from splitting
protects from heat styling and environmental pollution
Moringa oil for hair – usage & application
Moringa oil is resistant to high temps (its smoke point is high). Before the application, you must warm the oil up (around 30 degrees, it must be warm but it cannot be hot to avoid burning). You apply it to scalp and strands and rinse out after one or a few hours. If your hair is extremely damaged and over-processed, go to sleep with hair covered in moringa oil and wash it off in the morning with a shampoo.
For the best effects of hair oil treatment, do it systematically, at least once a week.
Which hair type is moringa oil suitable for?
Monounsaturated fatty acids, which prevail in moringa oil, are ideal for medium-porosity hair – delicate, a bit weak, dull hair which is prone to frizz, falling out and splitting ends. Most people have medium porosity hair which is somewhere between thick, heavy, flat hair and very dry, brittle and damaged hair.
Moringa oil – price
Moringa oil is a quite luxury oil when compared to others. It features the highest concentration of vitamins and amino acids, therefore its price is a bit higher than the price of other similar substances. Still, it is worth trying out considering moringa oil skin and hair benefits – hair oil treatment effects are surprising after just a few applications.
Moringa oil – reviews
Moringa oil gets really great reviews, especially among bloggers who value its rejuvenating and anti-aging power and potential. Many women say about mind-blowing effects: a regular use of moringa oil smoothes first wrinkles and fine lines, firms up and evens out the skin tone. It also helps get rid of dandruff and soothes irritated scalp so it is recommended for dry scalp and as a remedy for sunburns. Most moringa oil reviews are positive; the price is the most common downside – the oil is fast-absorbing so it doesn't last long.