Looking for something that would help you fix broken and over-processed hair? Luckily, there are plenty of ways to do so. For example, you can ask a hairdresser for a customized hair treatment, or you can try to answer all your hair needs at home. All you need to do is reach for the right product, which is a keratin hair mask. Why keratin? Find out and check 6 products that have no equal in repairing hair!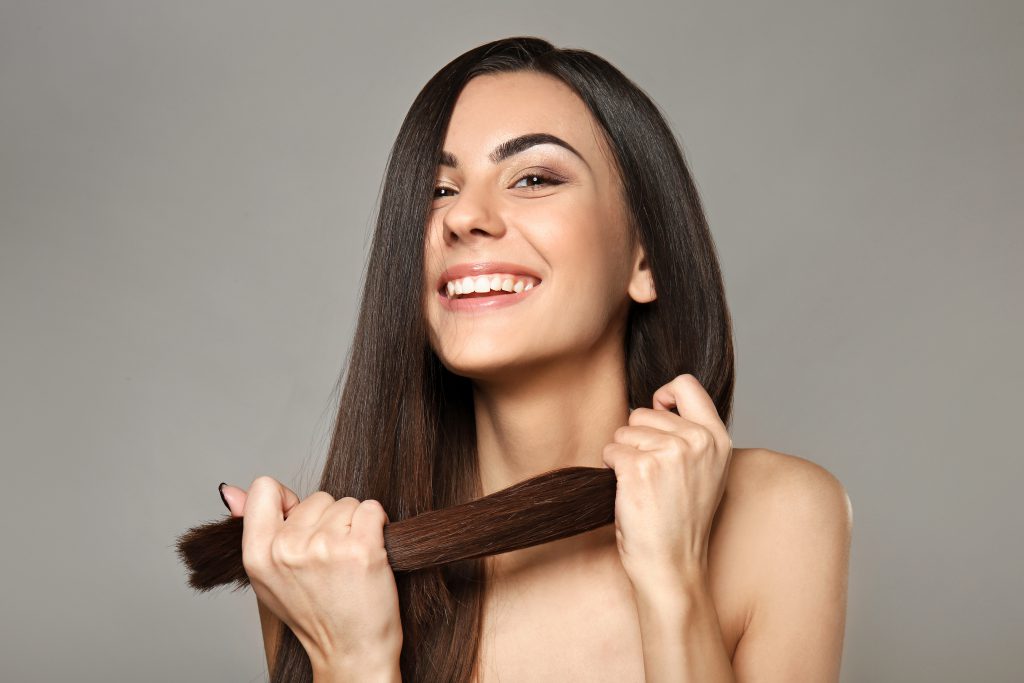 You get up in the morning, look in the mirror and you see your hair looking like a haystack. You touch it and feel that it's brittle, coarse and dry. You don't even count the split ends because you've started treating them just like another feature of your hair. Your hair is dull, dry and shine-deprived. Is there anything you can do about it?
How to Repair Damaged Hair?
Each damage can be repaired. Even the most serious one. Sometimes you need to start with getting the hair trimmed but eventually the majority hair concerns can be handled with the right hair products – especially those with keratin.
Keratin is the basic protein that our hair is made from. It forms tiny cuticles resembling roof tiles, and just like the tiles are sheathing for the roof, the cuticles are sheathing for hair. A layer after a layer they cover each hair shaft providing protection and resilience. If the hair is damaged, the sheathing gets weaker, meaning that it lacks keratin.
So, if you're planning to cut your hair short because you think that there is nothing that may help your fatigued hair, give a try to a keratin hair mask first.
The Best Mask for Damaged Hair
What treatment should repair your hair fully? Hair mask seems to be the most reasonable solution because they work inside the hair, not only on the outermost layer just like a hair conditioner does. But don't go for a random hair mask! If you want to see the best effects, reach for a product that was designed to fulfill the needs of damaged hair. In other words, you should look for a hair mask that:
is rich in nutrients, but free from parabens, phthalates, PEG-s and other ingredients that may dehydrate and ruin your hair even more.
contains keratin, best if hydrolyzed because its molecules are tiny enough to penetrate hair deeply, repairing the strands from within.
does more than just reverse damage, meaning that it also nourishes, revives moisturizes, strengthens, improves resilience and protects.
is top-rated and receives positive reviews from women, who use it and recommend it, as well as from professionals, hair stylists and salon owners.
With these tips finding the right hair mask for damaged hair should be far easier. Let's roll!
Top 6. Keratin Hair Masks
If you don't have the time to look for the most suitable hair mask, or if it's hard for you to understand the complicated INCI list, the below round-up should be useful for you. Here are 6 best masks for damaged hair – keratin hair masks that are worth having. The products listed below are recommended by professional hair stylists, which is the ultimate proof of the products' high quality. Last but not least, the below hair masks are the current top-picks of consumers.
1. NANOIL, KERATIN HAIR MASK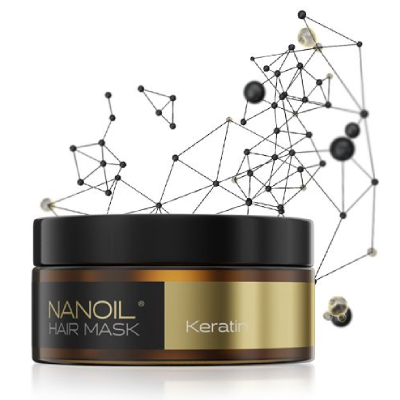 Nanoil keratin hair mask is the best solution for damaged hair, not only because it's formulated with the precious hydrolyzed keratin which has strong hair repair capabilities, but also due to the fact that this is a weightless treatment of high effectiveness that contains only the best ingredients. Apart from keratin, this hair mask is also enriched with panthenol and hair-safe silicones. Thanks to these two ingredients Nanoil Keratin Hair Mask repairs damage in hair in just a few weeks, restoring health and beauty. Still, the biggest plus of this mask is the fact that it improves the appearance of hair from the very first use. Let the hair mask do its trick by applying it to freshly washed hair. Remove it after 15 minutes to reveal super smooth, lustrous and easy to comb strands. Undoubtedly, with this hair mask you will take your hair routine to a whole new level.
More information on: nanoil.us
2. PHYTO, PHYTOKERATINE EXTREME MASK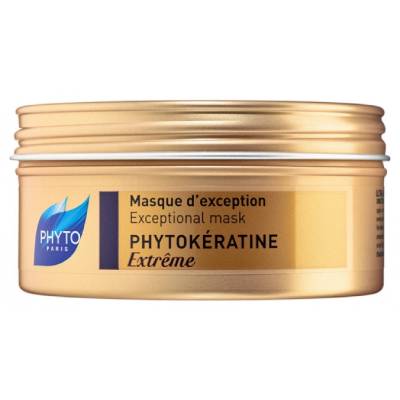 Another hair mask recommended to fine, dull, dry and damaged hair is Phytokeratine Extreme Mask from the Phyto brand. This is a reparative hair mask enriched with plant-based keratin made from 18 different amino acids. In this product, keratin is teamed with shea butter and baobab oil, which means that this formula isn't suited to all hair types because it may weigh down the hair that doesn't tolerate plant oils well. In the majority cases, however, Phyto keratin hair mask is able to reverse damage, nourish the hair, strengthen and add healthy shine. Even though the effect of deep hair repair is easy to achieve, you must pay quite a lot for it – indeed, this is one of the costliest keratin hair masks.
3. GOLDWELL, KERASILK CONTROL MASK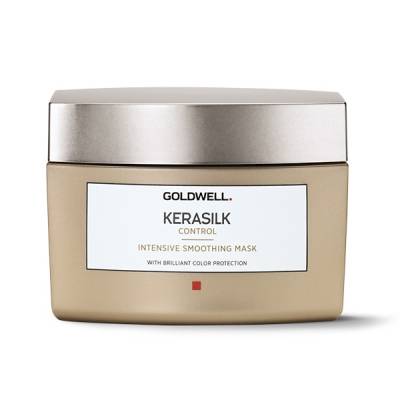 Keratin hair mask launched by Goldwell is another offering for those who are looking for a cosmetic that will repair their damaged hair. Since it's formulated with two highly valuable substances: keratin and panthenol, this product is perfectly suitable to be used as an at-home hair repair treatment. Sadly, the list of ingredients includes some substances whose effect on hair is doubtful. Goldwell Kerasilk Control Mask is a mask whose main task is to leave the hair perfectly smooth after washing, and it does it pretty well, preventing at the same time color fading. Lastly, it's recommended to unruly and unmanageable hair that needs to be tamed.
4. MONTIBELLO, KERATIN FORCE MASK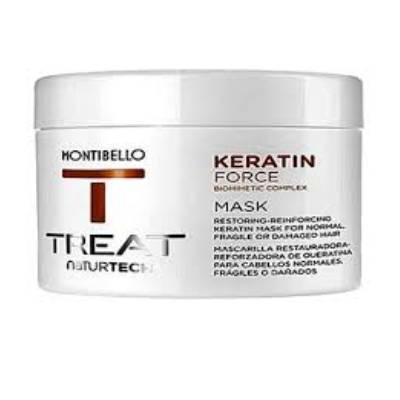 Although Montibello is right behind the podium, it doesn't mean that it doesn't deserve attention. In a small-size jar you will find a formula rich in keratin – a protein responsible for deep hair repair. Additionally, this product also contains plant-based proteins and guar gum that boosts the hair repair effects delivered by Montibello Keratin Force Mask. Most of all, this is a heat protection mask recommended for being used prior to heat styling to minimize the risk of damage caused by high temperatures. Good thing is that this product is budget-friendly and commonly used in hair salons. Just a small portion of the product suffices to get easier-to-comb and protected strands.
5. KEUNE, CARE KERATIN MASK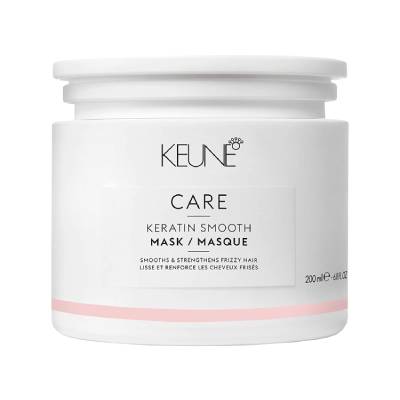 The costliest hair mask on this list, and in general one of the costliest hair masks out there, is Keune Care Keratin Mask. Indeed, you have to spend a small fortune to get it. In return you get a formula rich in keratin, panthenol, shea butter and an unique Quat complex responsible for shielding the hair from high temperatures. This cosmetic is mostly recommended to fine hair, as well as to hair that tends to get frizzy easily. It makes hair regain moisture, makes them stronger and protected by preventing brittleness, for example. The best thing about this product is the amount of time it needs per one treatment – you can remove it after just 2 minutes.
6. BRAVE. NEW. HAIR., KERATIN MASK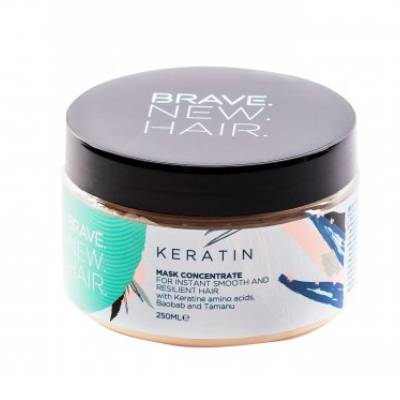 Even Brave. New. Hair. has a hair mask for weak, brittle and unruly strands. This seemingly ordinary product, which can be yours for a pretty low price, leaves the hair stronger and smoother. It's also responsible for improving moisture in hair and easing styling. Together with keratin, this product also includes two oils: baobab and tamanu. This is a formula free from sulfates, silicone and vaseline, which means that it's pretty well-composed. Brave. New. Hair. Keratin Mask isn't the most popular hair mask, this is why it wins the last place in this ranking. If you decide to give it a go, it's highly possible this product will surprise you positively. Especially after realizing how easy to use it is and how good it is for hair.