You wish to have low maintenance hair but it seems to resist holding a style, is hard to arrange in a good-looking hairdo and in general doesn't want to cooperate with you on any level. Not to mention creating a completely new look, involving doing some fancy updos and cute buns.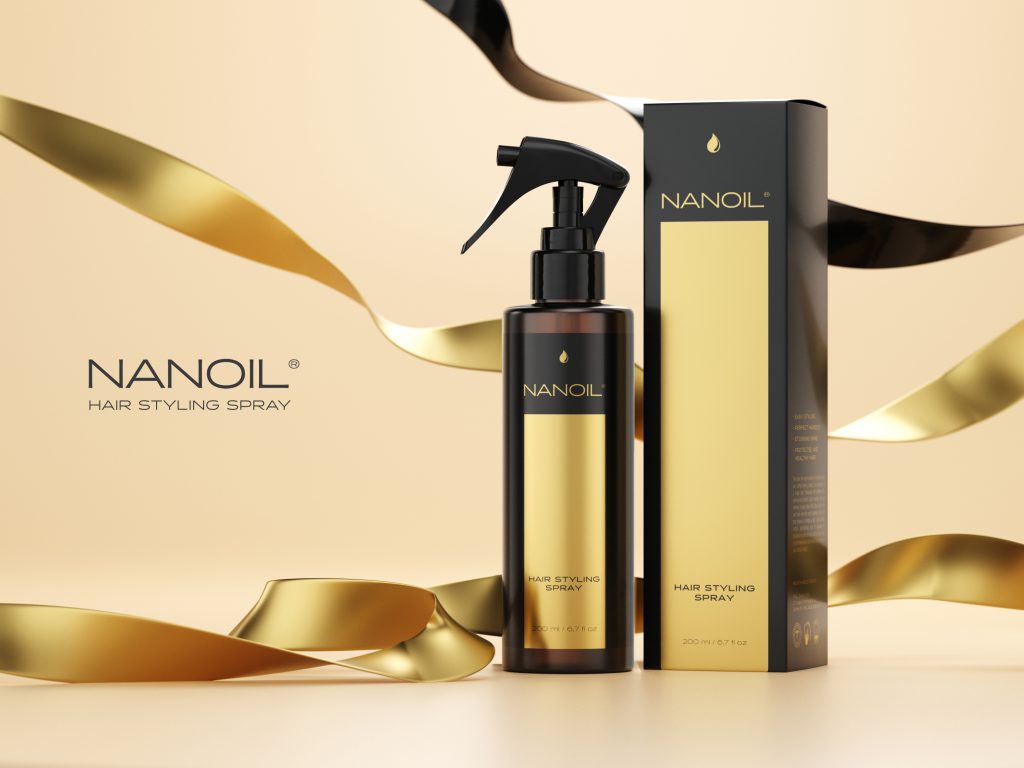 The good news is that we have a solution for you, and its name is Nanoil Hair Styling Spray. Why would you give it a shot? One of the most obvious reasons is the fact that this product is designed to give a salon blowout without clumping your hair together like other hair sprays tend to do. Sounds good? Keep reading, then!
Hair styling with Nanoil
Do you know Nanoil? This cosmetic brand is recognized for its hair masks, natural oils and micellar shampoos. Recently it has expanded its offer, adding three new hair styling sprays that help you create updos and blowouts, but that's not all. While doing so, they also deliver nutrients and moisture to your tresses.
With these three Nanoil products styling becomes super simple, and the hairdo you arrange stays in place for as long as you want it to. What can you choose from? You can get yourself a thermal heat-protectant spray, a volume-improving spray and a hair styling spray that this article is about.
Why is it a good thing to choose Nanoil Hair Styling Spray?
Let's get straight to the point and answer the following questions: What makes this Nanoil spray a best-seller? Why is it worth your attention and what actually makes it better than other similar products?
First and foremost, Nanoil Hair Styling Spray knows how to take good care of hair! It means that the nutrients it's made up of keep hair safe from damage, make it stronger and lustrous. What are the ingredients? Pro-vitamin B5 and castor oil are two key constituents.
Secondly, this product is completely non-overburdening. This means that with its use you can create stay-all-day hairstyles that look natural. In other words, Nanoil Hair Styling Spray gives you the benefits of a regular styling spray without the actual buildup, residues or dull finish.
Nanoil Hair Styling Spray as your personal stylist
This spray is ideal for arranging various hairdos on all hair types. No matter if yours is delicate or weak, normal, thick or heavy, this Nanoil spray helps you get the desired results that last without falling apart throughout the entire day. Now, by using just one product, you can improve the appearance of your hair and enjoy this effect for really, really long.
Benefits of Nanoil Hair Styling Spray
There are many reasons why having a bottle of Nanoil Hair Styling Spray at home is a good idea. This is what Nanoil spray is designed to give you
Cuts drying time.
Smooths out and adds shine.
Eliminates the problem of fizz and static.
Provides easy combining.
Helps you comb the hair easily.
Leaves hair elastic and pleasantly soft.
Extends hold.
Doesn't make the hair feel stiff.
Makes it easier to curl or straighten the hair.
Users also like Nanoil Hair Styling Spray for its pleasant aroma, size and affordable price. Visit nanoil.us to see for yourself that you can actually enjoy styling your hair in the morning. Effortless styling and lasting results are now within your reach. You know what to do now.