Korres is known for natural cosmetics. This time around, there are two new dry body oils available from this brand, Water Lily Blossom and Santorini Vine. Both are dedicated for skin care of mature, dry and with first signs of ageing skin. See for yourself if you'd like them as well.
What is a dry oil?
Dry oil is a conditioning product, fulfilling numerous uses. It deeply moisturises skin without greasy layer. It leaves skin with protective film, that protects it against external factors. Dry oil consists of moisturising substances such as paraffin, vegetable oil and many, many more, which take care of proper hydration and skin elasticity. The benefit of dry oils is that they apply and absorb quickly.
Dry oils from Korres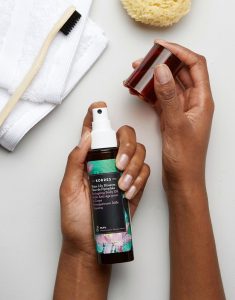 Dry body oils Water Lily Blossom and Santorini Vine are dedicated for all skin types. However, they evince best properties on mature and dry skin. Their main task is to moisturise, nourish, smoother wrinkles, lighten discolourations and provide body with antioxidants. Those cosmetics are rich in fatty acids, almond oil and Shea butter. All ingredients take care of skin, ensure proper level of hydration and protection against pollutions and sun radiation. Products from Korres, including dry oils, do not contain: paraffin, mineral oils, silicones, parabens, PEG, SLES, retinol or animal by-products. For this reason, product can be used by people with sensitive and prone to allergy skin. Cosmetics are recommended also for vegans and vegetarians.
How should you apply dry body oils from Korres?
You can use them in the morning and in the evening. They have light consistency and apply really easy. Cosmetics from Korres can come especially handy after bath when skin is dry and tighten. Small amount of oil rub in hands and than apply on skin of body. You can perform massage, which will accelerate absorption of cosmetic and make skin better supplied with blood.