Face mask Rose Waterfull from SKIN79 is dedicated for moisture and exfoliation of skin. Such properties of this cosmetic are possible thanks to following acids: lactic, glycolic, almond, pyruvic and tartaric. Let's see how does this cosmetic work and will it help deal with skin imperfections.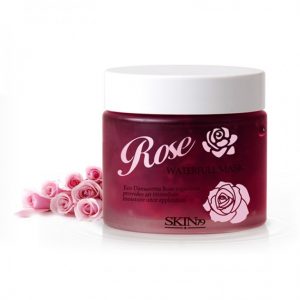 Rose Waterfull from SKIN79 is a special task force in skin care. It is recommended for skin care of all skin types. It has double action: delicate exfoliation of dead skin cells and deep moisture. Product can be used even by people with combination and oily skin; they should apply larger amount of product on T zone, i.e. forehead, nose and chin. Those people who have skin prone to blackheads are recommended to be careful with treatment with Rose Waterfull from SKIN79. Why? Mask contains glycerine and other oily substances, which consist clogging properties and can cause blackheads. On the other hand, cosmetic leaves skin well moisturised for entire day and night. After few hours skin is velvety in touch, smooth and soft. Dry areas of face are not peeling, uneven skin becomes smooth and dry skin is being eliminated. Intended application of foundation is simple and quick and make-up looks stunning.
Beside AHA acids, face mask contains also Damask rose essential water. This ingredient provides deep moisture and regeneration of epidermis as well as optimal level of hydration in deep layers of skin. What is more, it consists of antiseptic, anti-inflammatory and regenerative properties. Essential water of Damask rose cleanses skin pores, removes blackheads, tones up, lightens discolourations and makes skin complexion even. It perfectly refreshes, tonic and energise fatigued and dull skin.
Rose Waterfull from SKIN79 has a gel consistency. It leaves skin with sticky layer, which can be a setback for some girls. Product has red colour and is placed in 75 ml/2.54 fl. oz. jar.