Redness, spider veins, irritation and burning sensation are four most common symptoms characteristic of couperose skin. How to fight them to help skin become normal? If blotchy skin is one of your main concerns, reach for a good face serum that targets weak blood vessels. Give a try to one of our six suggestions and see how calm and good-looking your complexion may be.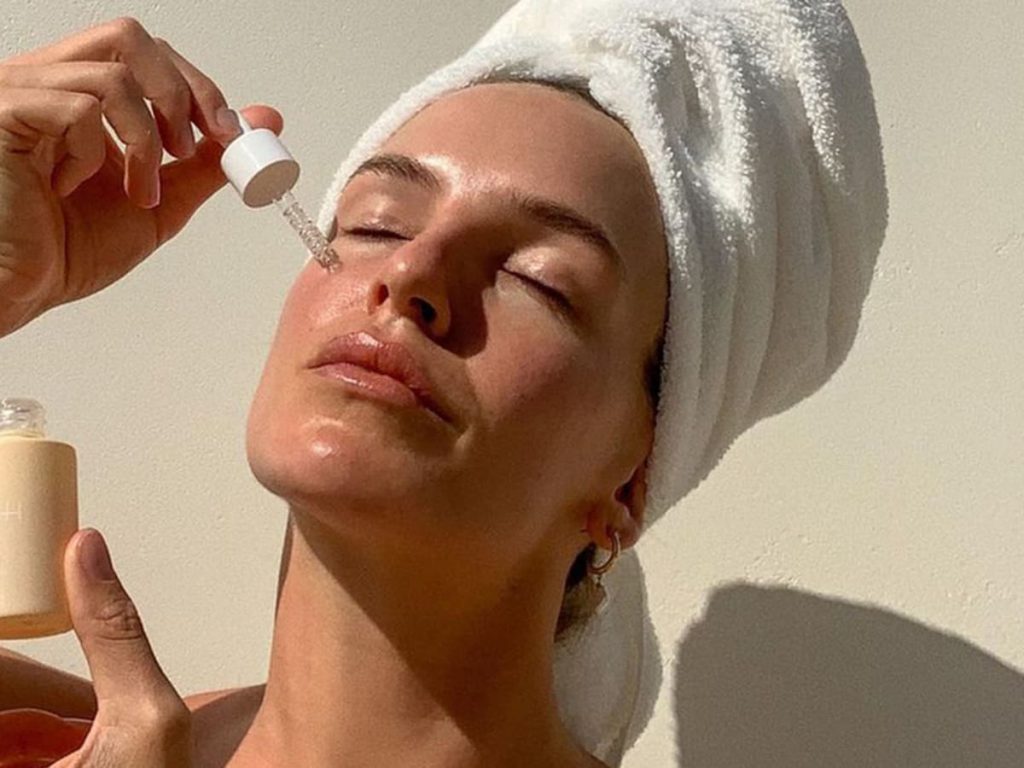 Couperose skin vs. sensitive skin
Couperose skin is very often described as sensitive or hyper-reactive, which is correct because some of its symptoms include persistent irritation, red splotches and burning sensation. Interestingly though, not every sensitive skin is couperose-prone. There is one more – very important – thing that determines whether skin is couperose or not, and this is weak and fragile blood vessels that break, creating the so-called spider veins on the face.
Despite these differences, treatments and day-to-day skincare of these two skin types look almost the same. They also focus on one key aspect – to bring relief. Basically, you should deal with irritation and balance the skin first, to later focus on erasing remaining imperfections, which are pretty common in both cases.
Couperose skin care
There is no better home treatment for couperose skin than a daily application of a face serum. This product is an irreplaceable source of soothing and caring ingredients. It's a lightweight cosmetic offering everything what couperose skin may need. It's also worth realizing that a face serum has one big advantage – it's incredibly efficacious. Face serum deals with the problems of couperose skin without triggering irritation or creating a feeling of heavy skin. Anyone who has tried to find a good care product for their damaging couperose skin knows that it's hardly possible to come across such products. After all, when a cosmetic is gentle on the skin, it doesn't deliver most of the promised results.
What serum for couperose skin?
Let's get to the point and focus on the recommended care products. Let's analyze face serums that are worth introducing to the daily regimen of problematic skin showing broken capillaries and redness. Check our list of the best serums for couperose skin – lightweight, effective and formulated with the finest ingredients. Your skin will love them, just try them!
1

Serum for couperose skin Nanoil Anti-Redness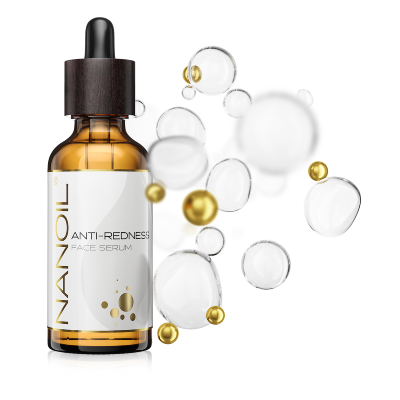 In first place there is the winner of many rankings – the Nanoil and its Anti-Redness Face Serum, top-rated and recommended by numerous skin specialists. This product is amazing because it's water-based, hence lightweight, and formulated with four precious plant-derived ingredients: chestnut extract that strengthens the walls of capillaries, linden extract that soothes skin, cypress extract that reinforces the skin's barrier, and a Nanoil most favorable antioxidant known as Punarnava. It takes up to a few days of consistent use to see the results. Right after putting the serum on the face it soothes irritation, but the more you use it, the better-looking your skin gets. Nanoil Anti-Redness Face Serum diminishes the appearance of red splotches, eliminates the problem of broken capillaries and helps skin regenerate. Nanoil and its Anti-Redness Face Serum is a simple way to get clear skin effortlessly.
Fore more information visit www.nanoil.us.
2

Face serum Dior Capture Youth Redness Soother
Naturally, you can also reach for the products of the well-known and luxurious brands to take care of your couperose skin. Just remember to match them to the needs of this highly sensitive skin type. One of such face serums is Dior Capture Youth Redness Soother enriched with cotton peptides. That's a cosmetic containing 79% ingredients of natural origin, with a lightweight gel texture, suitable for being introduced to the daily skin regimen of demanding and redness-prone skin. It improves skin's abilities to defend itself from external aggressors, calms it and reduces redness, promoting clear complexion. To see these effects, apply Dior Capture Youth Facial Serum at least once a day at bedtime.
3

Face serum for sensitive skin Murad Redness Therapy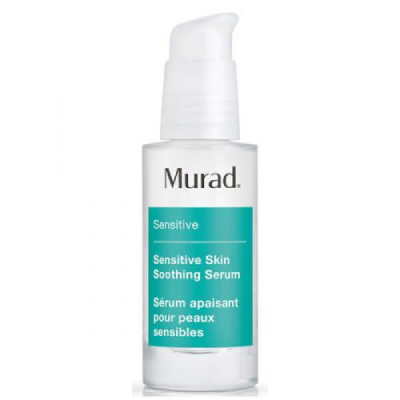 Among the wide variety of face serums designed for couperose skin, there is one deserving some recognition, and it's Murad Redness Therapy Sensitive Skin Soothing Serum. What makes it so special? Certainly it's the lightweight and non-overburdening formula made from ingredients such as hyaluronic acid that is responsible for hydration, lecithin that reinforces skin's protective barrier, as well as chamomile and arnica extracts that have a positive effect on the blood vessels. When teamed together, these substances create quite an interesting soothing treatment, perfect for couperose skin. The main advantages include redness removal and zero irritation. It also leaves skin better-looking. The philosophy of the Murad brand assumes that you have to take care of each and every cell in your body, and therefore they do their best to launch do-it-all products.
4

Serum for couperose skin Exuviance AntiRedness Calming Serum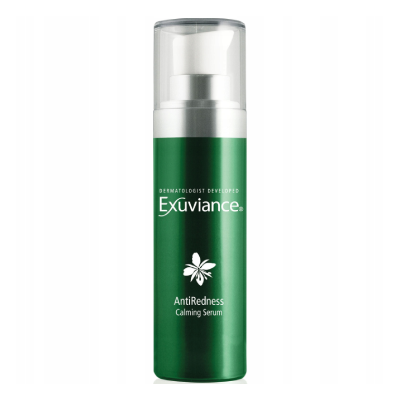 Exuviance AntiRedness Calming Serum is another offering for those looking for a good face serum to soothe their couperose skin. Even though this isn't definitely the cheapest cosmetic you can get, it offers an intriguing combination of ingredients that makes the serum tempting. What is the formula made from? In Exuviance AntiRedness Calming Serum you can find plant-derived substances such as horse chestnut extract, willow herb, licorice or white tea extract, and even caffeine. Apart from that, this face serum for couperose skin also offers a blend of peptides and acids responsible for dealing with imperfections and skin irritation. Used regularly for a longer period of time, Exuviance serum promotes even complexion with no traces of inflammation.
5

Serum for rosacea La Mer MED+ Anti-Red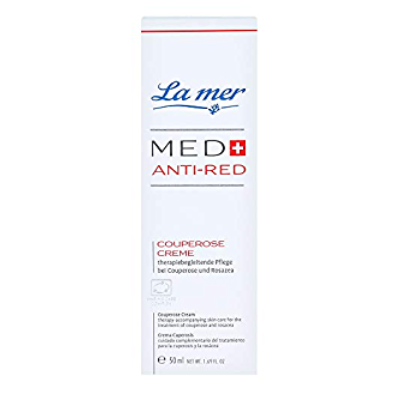 La Mer MED + Anti-Red is a second-to-last face serum recommended for sensitive, couperose and problematic skin. Yet this small care product was primarily made for rosacea-affected skin. This is another lightweight cosmetic formulated with marine-derived ingredients: silt extract, algae extract and sea salt. The serum soothes the feeling of irritation and prevents it from reappearing. It also brightens facial redness and handles rosacea. In one word: this product promotes well-balanced skin and leaves it healthier-looking. And you can get these effects provided that you use the serum daily which means that you need to buy two or three bottles of La Mer MED + serum at once – the size of one packaging is really small.
6

Serum for couperose skin Avebio BIO Oil Antired Elixir
Avebio is another brand that knows how important it is for couperose-prone skin to receive the right treatment. That's why they created Anti-Red Elixir face serum, which is a formula based only on natural ingredients. It contains six plant oils extracted from passion fruit, macadamia, immortelle, purge, rose and wheat germ. These naturally-derived ingredients replenish nutrients to the skin, soothe and brighten the complexion. On the other hand, oils are quite heavy, meaning that they increase the risk of clogged pores. Nevertheless, if you're a fan of oil formulas, Avebio BIO Oil face serum for couperose skin should be good for you.