Delia Cosmetics is known for cosmetics in affordable prices, but at the same time they meet consumers demands and offer really good properties. In Free Skin Make-up line appeared absolutely new product, BIO Fluid Moisturising & Correcting with white sapphire. Is perfect make-up possible to achieve on skin with imperfections? And can you avoid mask effect and weighted down skin?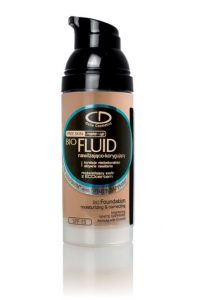 Delia Cosmetics proves that the indication of quality is not a price, or amount of active ingredients. BIO Fluid provides three-steps nourishment, because it is based exclusively on three special ingredients:
mineral pigments, providing perfect cover of all imperfections, even skin complexion and limitation of discolourations;
active Fucogel, supports proper level of hydration in skin and provides instant moisture;
white sapphire (precious component of natural origin), ensures natural and fresh glow and delicate highlight.
The price of BIO Fluid with white sapphire is relatively low, because 55ml/1.9 Oz. foundation with a pump can be purchased online for about 10£. Such price for cosmetic with properties similar to its more expensive competition, makes Fluid from Delia Cosmetics quite popular among women, who search for perfect solution for themselves.
Light creamy formula of foundation absorbs well, and product blends with natural shade of skin providing effect of natural smoother. BIO Fluid with white sapphire does not weight skin down and is impalpable on face, so skin can breath after application. Delia Cosmetics makes possible cover of imperfections, skin matte of oily skin and nourishment.
BIO Fluid Moisturising & Correcting has clear glass bottle with pump, which significantly increases product's efficiency. Fluid with white sapphire from Delia is easy in use, has very pleasant formula, simple composition and most of all provides solution for skin with imperfections.