Trimmed or natural? That is the choice given to us by Dior, who recently launched new cosmetic. We are obviously talking about All-In-Brow 3D palette. Thanks to this smart cosmetic you will style your eyebrows without use of tweezers. See for yourself if you are ready for this solution!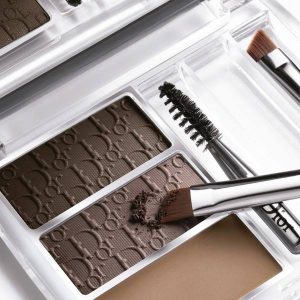 The Instagram is a true mine of photos of girls with perfect make-ups. They are your inspiration or maybe on the contrary – you prefer to look natural. And what would you say if you had an opportunity to use cosmetic thanks to which your make-up would be perfect and natural? It is possible with eyebrows palette All-In-Brow 3D from Dior. What's even more interesting, it is very universal and easy in use. Inside of packaging you will find mirror and three applicators – brush for stylisation of brows and two cut at angle brushes. The case contains also two eyebrows shades and waterproof wax – those products are responsible for perfect look of brows. Whole product has white plastic packaging. In dragstores this product is available in one shade – 001 Brown. Girls with blond hair don't have to worry about colour that doesn't match their hair colour. After all this season is all about strong dark brows and light hair.
What are the possibilities provided by All-In-Brow palette from Dior? Skilful use of applicators, brow shadows and wax can create ombre effect on your brows. Wax provides long lasting results and makes hair perfectly styled. Did you know that All-In-Brow palette is used during the greatest fashion shows? Check how make-up artists use Dior products and do the same! Warm up a bit of wax in hands then apply it with brush on eyebrows. Next apply both shades to create ombre effect. Your make-up is almost ready. Don't forget about mascara and eye shadows.